Street Theatre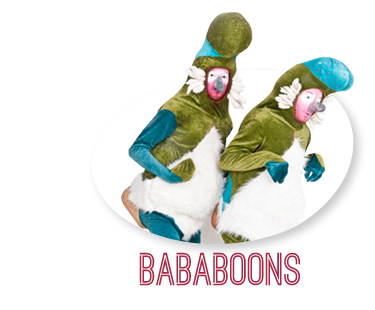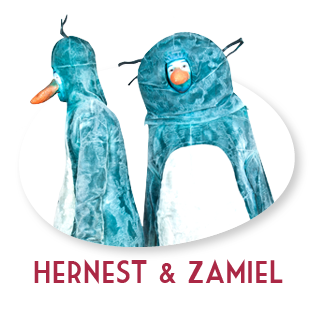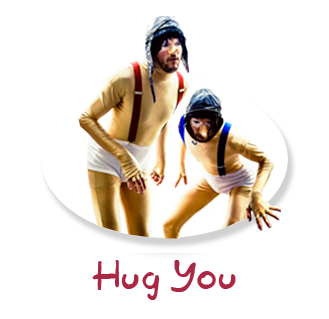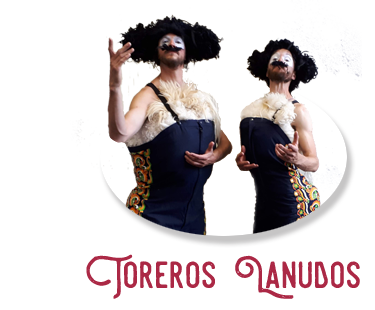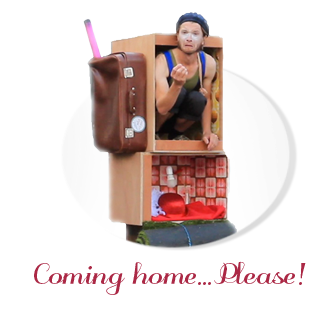 At the corner of the street or at a nearby marketplace... You have absolutely no idea what's in store for you? Come closer and fall under the spell of their charm and beauty! Because before you know it, they will be standing right beside you or you will be hearing a weird sound somewhere in the distance that draws your attention. Our walking and circle acts offer you, in a humoristic, poetic and interactive way, a moment full of wonder and tenderness. We transform the street into something unique... which you will never forget!
The street theatre we bring to both young and old is born out of an intense passion. Because the spectators are our target and we love to carry them away in a unique moment full of playful circus scenes, bizarre characters, improvisations,... and unforgettable tragedies.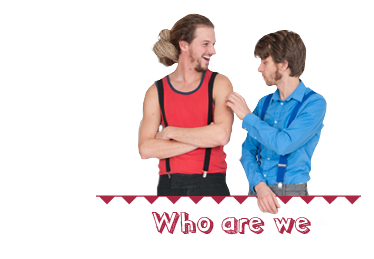 Pieter Elias
touchingly honest
charismatic and energy-generating
balanced and musical in just 'things'
steady as a rock in the heat of the moment




Hannes Goffin
the whimsical one of the two
a whirlwind of energy
innovating and creative with body, soul and just 'things'
an innocent opportunist





Interested?
References

We performed at various international street theatre festivals, such as SPOFFIN Festival te Amersfoort (NL), Performance Paderborn (D), Nancy (FR), Sibfest (RO), MilanoClownfest (IT), Bajoccofestival Rome (IT), Tomorrowland in Boom (B), Kunsten Op Straat (NL), Theater in het Groen (B), BoeCult (NL), Bollekesfeesten in Antwerpen (B), Dumontfeesten in De Panne (B), Beveren (B), Lubbeek (B), Brugge (B), Gent (B), Zwijndrecht (B), Aalst (B), Kortrijk (B), Aartselaar (B), Knokke -Heist (B), Boulevard, Wenduine (B), Geertruidenberg (NL), Terneuzen (NL), Amersfoort (NL), Dordrecht (NL), Bergen Op Zoom (NL), Utrecht (NL), Vlissingen (NL), Arnhem (NL), Raalte (NL), Enschede (NL), Doetinchem (NL), Hengelo (NL), Zagreb (Kr), Ascona (Ch), Parijs (Fr), Sévignacq (Fr), Lellingen (Lux), Wenen (O), Parktheaterfestival Diksmuide (B), Beckum (D), Premiere Winter in Antwerpen (B), Theater Aan zee (B), Gevleugelde stad(B), Brouwsels op straat Eke (B), Kioskfestival Halle (B), Wortegemse feesten (B), Mijnhapping (B), Menen (B), Westende (B), Zinnekeparade (B), Straatspiegels Berchem (B), Lachfestival Houthalen (B), Brussel (B), Beveren (B), Tête a Tête Rastatt (D), Hannover(D), Landshut (D), Bamberg (D), Mugron (Fr), Charleville Mézière (Fr), Linz (O), Street theater Lithouwen, Binnenste Buiten (NL), Woerden (NL), CAID Wageningen (NL), Delft (NL), Eersel (NL), Overijse (NL), Amersfoort (NL), Noord Holland (NL), Deventer (NL), Zwolle (Nl), Doesburg (NL), Den Hout (NL), Nijmegen (NL), Utrecht (NL),...