Past shows
Bij de Vieze Gasten, Gent
CC Scharpoord, Knokke
GC De Bosuil, Overijse
CC de Kruisboog, Tienen
Theaterzaal Roxy, Temse
OC Den Bril, Lier
CC Scharpoord, Knokke-Heist
GC De Kluize, Oosterzele
GC de Wildeman, Herent
GC de Bunder, Moorslede
Theater Tinnenpot, Gent
GC Den Breughel, Haacht
CC de Beuk, Kortemark
CC Scharpoord, Knokke-Heist
OC Den Bril, Lier
Theaterzaal Roxy, Temse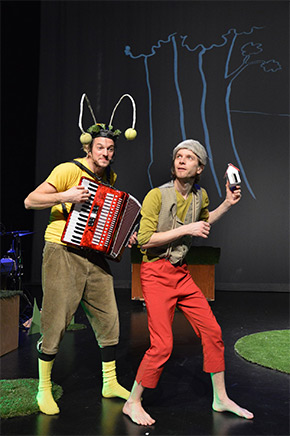 Bas weet het niet!

What if making friends were not that easy … simply because you're different… or is it because others think you're different?
A show about discovering yourself in relation to the other and the difficulties that come with it… about loneliness, but also about the strength and courage that are sometimes needed to deal with it. Through a stimulating musical play we see how Bas, a wolf that wants to be nice, struggles with prejudice and stigmatization.
However, Mister Human, a mischievous, kind benefactor sees his chance to help Bas on his way…
An intimate play full of mime and puppet theatre with live music for little rascals and other sweet wolves.
This show is aimed at children from 4 years.
Performance/play: Pieter Elias & Hannes Goffin 
Music: Pieter Elias
Coach: Walter Janssens (among others Manmanman, KOMMIL FOO production, Inspired by a story by Lieve Van Passen 
Decor: Hilke Goffin, Mark Goffin & Hannes Goffin 
Puppet: Lieve Van Vlierberghe
With special thanks to GC DeKluize Oosterzele
Teaching material